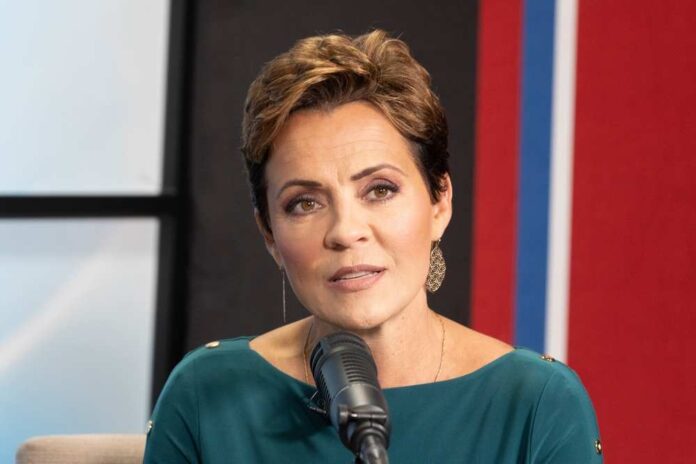 (PatriotWise.com) — Arizona's Kari Lake is considering a run for the US Senate. The former Republican gubernatorial candidate is eyeing a seat on Capitol Hill – and may stand in 2024. She will face competition with the seat's current occupant, independent Senator Krysten Sinema. Donald Trump endorses Lake who is still fighting in the courts to overturn the result of Arizona's gubernatorial race in 2022. She insists electoral fraud was the cause of her loss.
"Just because they stole an election we're so dangerous to them. I'm so dangerous to the status quo and this rotten swamp that they're willing to steal an election to stop me and our movement. I'm not letting them get away with that," she said.
She added that current polling indicates she would win the contest.
However, OH Predictive Insights, a company that analyses political trends, disagreed and said her main obstacle is winning over independent voters. BluePrint Polling has found that she does have the majority in a hypothetical race involving Arizona Democratic Rep. Ruben Gallego and Sinema.
Lake spent 22 years as a TV anchor on local Fox News. She is a staunch conservative who campaigns to ban abortion outright, end illegal immigration, and ban so-called "woke" ideals from schools. Despite her brief support for Barack Obama, she contends she has been a registered Republican for 30 years. She backed Obama but ended up disappointed, she says.
The firebrand has supported Donald Trump and firmly believes the White House was stolen from him in 2020. She has brought her own fraud case to court, and the results are mixed. Her latest claim is that Maricopa County did not follow signature verification procedures during the count. A superior court judge is currently examining those claims.
One of her initial arguments centered around problems with printers and vote tabulating machinery. Maricopa County Judge Peter Thompson and the Arizona Court of Appeal threw the case out, but Lake persists nonetheless.
Copyright 2023, PatriotWise.com